What is the Harmonic Egg®?
The Harmonic Egg® is a wooden chamber designed to create an environment for deep relaxation and internal balance. As energy vibration builds within the chamber, it connects with the participant's autonomic nervous system to allow the natural healing of mind, body, and spirit.
Dimensions:  The Harmonic Egg® is 11' x 11' wide and 7' high. Clients recline in a zero-gravity chair inside the chamber. We recommend that it is placed in a room 14' x 14'.
Specifications: The Harmonic Egg® is constructed of wood and incorporates sacred geometry. The egg-shaped chamber uses a dodecahedron shape on the outside and is smooth on the inside. The platform for the chair is a hexagon and the egg shape promotes 360 degrees of healing.
The Sensory Experience: The Harmonic Egg® delivers sound and light therapy. The Egg includes a sophisticated sound system and lights that can change color as desired. Purchase of the Harmonic Egg® also includes the proprietary music composed and produced to maximize resonance within the chamber. Both light and sound can be adjusted and customized to best address the health and wellness needs of the individual client.
Shipping & Installation: The cost of the Harmonic Egg® includes shipment, delivery, and careful installation by our staff.
Training: Purchase of a Harmonic Egg® also includes training. In addition to one-on-one training, Gail Lynn hosts a video conference for owners weekly and administers a social media page where owners can share experiences and ideas with other Harmonic Egg® owners.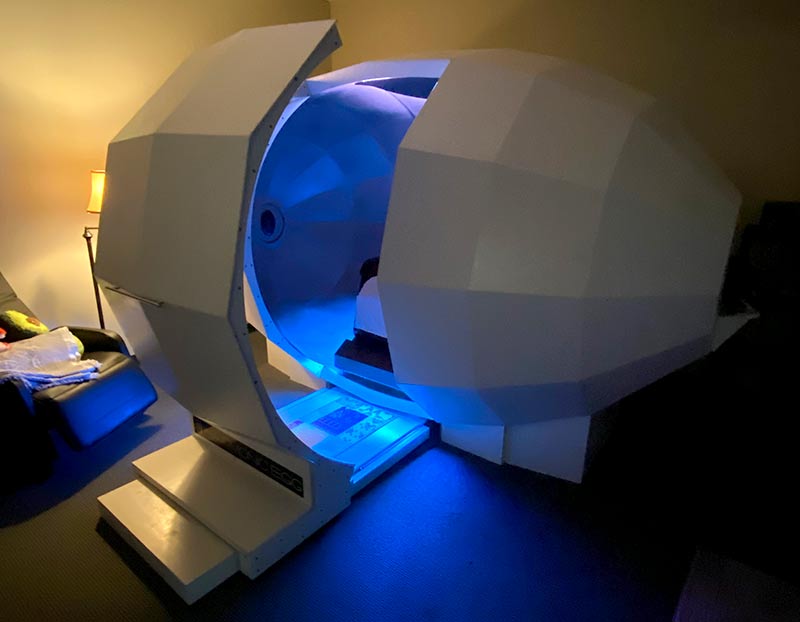 At the Life Center, the original studio in Denver, more than 13,000 clients have experienced the Harmonic Egg® since 2010. Typically, we find that 3 – 10 sessions will hold the cell memory/nervous system reset. The Life Center has been profitable while offering the option of single sessions, packages of multiple sessions, and annual memberships.
What People are Saying About the Harmonic Egg®
"It's an honor to offer the Harmonic Egg
®
sound and light healing chamber to our Atlanta Metro community. Seeing peoples' lives transform in positive ways such as relieving stress and resolving chronic conditions is truly a blessing.
In addition, it's great to be part of a network of Harmonic Egg® owners. We exchange information and share experiences that add value both to our clients and to our businesses. Gail has a tremendous heart of service and devotion to sharing her knowledge with Center Owners and helping the Harmonic Egg® family be successful."
Korrine Holt, Vibrology Center

Purchase the Harmonic Egg®
If helping people improve their lives strikes a chord, we are happy to send you our Information Packet.