Ancient Energy Medicine Delivered with Cutting-Edge Technology
The Harmonic Egg® / Ellipse® is a resonant chamber that delivers a bio energy therapy that restores the body's balance and promotes healing. It utilizes the energy found within the body to allow cells to reset and re-balance and encourage natural healing. This innovative technology gives wellness practitioners a tool to provide energy therapy for their clients to repair, de-stress and relax the body.
The egg-shaped resonant chamber was created to focus the energy of sound, light and color as a restorative bio healing therapy. This environment provides a consistent, repeatable experience promoting a sense of internal balance and well-being.
About the Inventor
Gail Lynn was inspired to create the Harmonic Egg® / Ellipse® after her own experience of healing using another resonant energy technology. With a background in engineering, she knew that she was uniquely gifted to craft a chamber with better energy resonance than the one she had experienced.
Features of the Egg / Ellipse
The Harmonic Egg / Ellipse design combines ancient wisdom with cutting-edge technology. Built to incorporate both sacred geometry into its dodecagon outer shape and acoustic science into its smooth inner shell, the Harmonic Egg / Ellipse is a peaceful and often euphoric experience. Some clients find relief after just a few sessions, while others find its healing properties valuable enough to opt for continued regular visits.
An important aspect of the energy therapy provided by the Harmonic Egg® / Ellipse® is the proprietary consciously created music specially selected to provide optimal resonance. Acoustic sounds of piano, drums, flute and other instruments combine to create inner balance.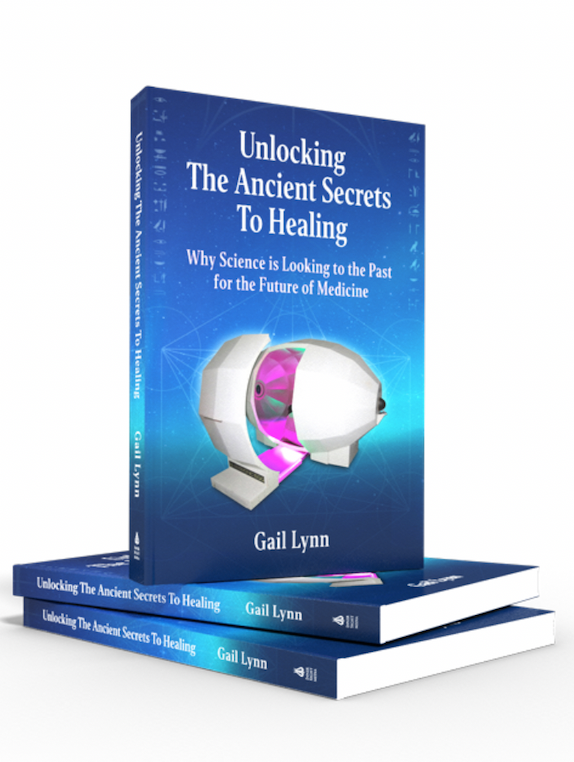 Get the Book
To take a deeper dive into the inner workings of the suite of Harmonic Egg, LLC products, check out the book "Unlocking the Ancient Secrets to Healing".
TESTIMONIALS
"We have always wanted to have a center where deep healing can take place. Daily, we are amazed as we watch healing take place for our clients at physical, mental, and emotional levels. We are so grateful to Gail, love being a part of her Harmonic Egg® family, and embrace her far-reaching vision that continues to inspire us all."
Deborah & Ryan, LightPathways Wellness Center
"The experience of starting a business with The Harmonic Egg® has been a joy. The installation was very smooth & coordinated and the training provided by Gail was very thorough. We felt like there was enough time allowed to answer all of our many questions. When the training was over we felt ready to begin running our center. Gail has always been on hand to answer questions as they arise. I feel completely supported by her and her team.
As we have proceeded in our business we have loved having Owner's Meetings and the opportunity to meet, virtually, and hear from the other Egg Center owners. We feel that Gail has created a wonderful team environment for all to share, learn and create a great team of Harmonic Egg® Centers to provide a beautiful, gentle and safe healing modality.
We are looking forward to many years of providing this much needed healing service to our community & being part of this wonderful group of owners."
TRACY AND MICHAEL, HARMONICS FOR HEALING
"We have worked for others most of our lives and the thought of owning our own business was daunting. From our very first encounter with Gail we knew she believed in us and our vision of being sole proprietors owning a healing clinic with the Harmonic Egg® as its centerpiece. She has proven her honesty, integrity and transparency many times over from the moment we decided to purchase our Eggs to the present. She coached us through the planning process, was available to guide us through the business aspects and delivered two information packed days of training with supporting materials. Gail made the best choice in partnering with Daryl and Tony to manufacture the Eggs as they also made us feel welcome with our endless questions. Gail has continued to be available for coaching and mentoring as we move along the path to a successful business. We feel very supported by Gail and we feel we are part of a family of people who understand the importance of the technology which Gail has brought forward. Gail has been and continues to be the biggest cheerleader for our fledgling business. We count our blessing that we found Gail, the technology and the Harmonic Egg® family."
GREG AND DEBRA, LATITUDE 34°
"Gail has been gracious, helpful, kind and responsive from the moment I decided to buy a Harmonic Egg®. Always present and able to help. Her answers to any questions have been thorough and precise and always right on.  The environment she created for all Egg owners is all about collaboration and generosity.  She encourages sharing what we learn with each other, as the only goal is to enhance our abilities to help our customers. I have rarely seen this kind of compassion and intent to help above all – it only enhanced my knowing that the Harmonic Egg® was birthed from the heart of a wonderful human, with the intent to help every individual we encounter.  I feel blessed to be participating in the healing of our own hearts, as we move through this extraordinary time.  Bless your heart."
ISABELLE, MALIBU, CA
"A new twist on very old technology, the Egg is a wonderful invention way ahead of it's time. Yet I have found people are looking for a new way to address health. Over and over again, I am amazed how the Egg so easily sparks interest and intrigue. And Gail is wonderful to work with, educating and guiding you every step of the way!"
TINA, HARMONIC HEALING 528
"First let me say, Gail Lynn is the best! Her calm confidence is astounding and her sixth sense even better! She is dialed-in to what you are thinking, what you need, and how to help or guide you into that realm, without astutely telling you, and sometimes without you even knowing! I am proud owner of the #13 Harmonic Egg®, Lucky 13! The first time I saw the Harmonic Egg®, 2019, I knew I had to have one! It was a pull to go get it, and the first time I experienced it only confirmed what I already knew, I had to have it! The peace that comes over when you have a session is indescribable! Within a few sessions I was relieved of inflammation and anxiety around driving. After adding Silver 500 to my sessions, and continuing in my own Harmonic Egg® with sessions, I was able to balance my hormones and alleviate almost all of my 'autoimmune' issues and concerns. In addition, the Harmonic Egg® has given my son, with Hodgkin's Lymphoma, a great deal of help, support and healing in the right direction!
I would have to say that I am a very proud Harmonic Egg® owner, as I wish I could just sleep in the Harmonic Egg® every night! I faithfully attend my own session every 5-7 days and believe in the therapeutic aspects and beyond….I am also proud to be part of Gail's 'Egg Family' and I thoroughly enjoy the owner meetings she conducts. The support and guidance that we give and get from both, other owners and Gail is amazing. Gail trains us, is there for us most hours of the day and is willing to help, guide, give advice, etc as much as she possibly can. Gail is very open and honest and easy to talk to and with! Gail is like a sister you can look up to and feel confident in walking along side of her. Gail is also a great inventor who is down to Earth enough to just say things how they are and allow you to do the same, in small groups and one-on-one calls! I am thrilled I contacted Gail, over one year ago and even more thrilled to have been able to get lucky Harmonic Egg® #13.
Thank you Gail for being so open, so kind, so generous and for just being you! You're the BEST!!!! Let if flow….
Proud Harmonic Egg® Owner, #13 (Central Valley, CA.)"
BROOKE ATWOOD, PHD, ALL ABOUT ME HEALTH AND WELLNESS CENTER
"The Harmonic Egg® is a true gift! Every day I watch my clients experience powerful shifts and transformations. This satisfying business adds purpose and passion to my life. As the developer of this wonderful modality, Gail offers great support and is always wiling and able to answer any of the Center owner's questions."
KERRIN, HEALING HARMONICS
"The Harmonic Egg® was recommended to me by a friend who told me to try it for grief and depression over my divorce. After experiencing the life altering changes it made in my life, I knew instantly I wanted to open my own center and gift this modality to the St Charles/St Louis Community. "
CINDY, HARMONIC PATHWAYS BALANCING CENTER
"It's an honor to offer the Harmonic Egg® sound and light healing chamber to our Atlanta Metro community. Seeing peoples' lives transform in positive ways, such as relieving stress and resolving chronic conditions, is truly a blessing.
In addition, it's great to be part of a network of Harmonic Egg® owners. We exchange information and share experiences that add value both to our clients and to our businesses. Gail has a tremendous heart of service and devotion to sharing her knowledge with Center Owners and helping the Harmonic Egg® family be successful."
KORRINE, VIBROLOGY CENTER
"LightPathways Wellness Center is so very excited to have the incredible technology of the Harmonic Egg® at our wellness center in Penryn in Northern California.
It has been a long journey getting it open…but, we made it! Gail's incredible expertise and knowledge about light, sound and frequency healing is unsurpassed. Her unwavering support to help our business become successful is invaluable. She is totally committed to creating a "family" of wellness centers all over the United States and has provided ongoing center "zoom" meetings where advanced training and open sharing of ideas is encouraged. It is great to get to know the other center owners and exchange successes so that we can all grow together. Gail is one of the most generous ladies I know and is more than willing to share all of her knowledge with us without question.
We have always wanted to have a center where deep healing can take place. Daily, we are amazed as we watch healing take place for our clients…at a physical, mental and emotional levels. During this time of great stress and need for immunity boosting we feel so blessed to be able to offer a relaxing time of listening to beautiful music, chosen for it's healing vibrations, and see the smiles and looks of contentment as clients exit the Egg. They are "happy campers" and are sharing it with their friends. We are so grateful to Gail, love being a part of her Harmonic Egg® family and embrace her far-reaching vision that continues to inspire us all. Thank you Gail… you are the Best! "
DEBORAH & RYAN, LIGHTPATHWAYS WELLNESS CENTER
"I am so glad that I was introduced to Gail. I enjoyed going to her center and feel the Egg firsthand, I quickly determined I wanted to open my own center. She has been so supportive and insightful. I was able to shadow her at her center and learn more about the Egg and about how she speaks to clients and determines the best songs and colors for their healing. She is always working on improving the Egg and the music. This excites me because it is not static- it is always changing and improving, as we change and improve."
MARY, HARMONIC EGG BOULDER COUNTRY
Read Additonal Testimonias Here
or browse our entire archive of testimonals below:

Purchase the Harmonic Egg®/ Ellipse®
If helping people improve their lives strikes a chord, we are happy to send you our Information Packet.