Unlocking The Ancient Secrets To Healing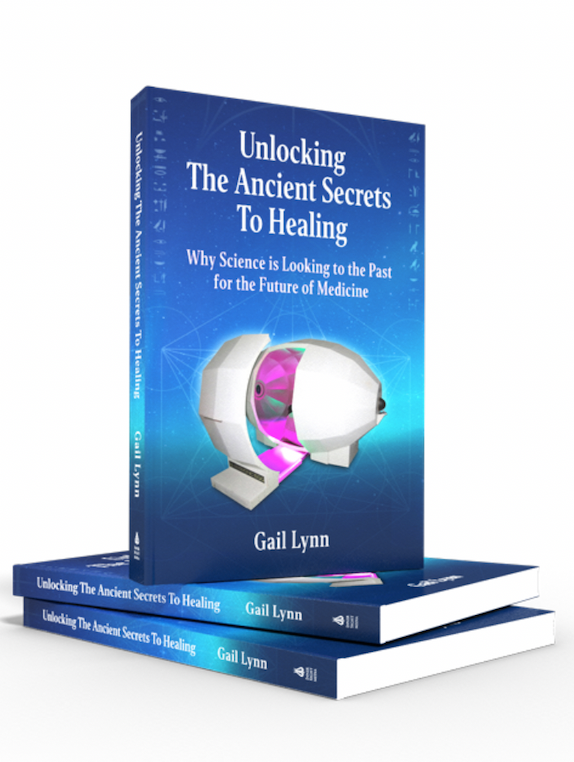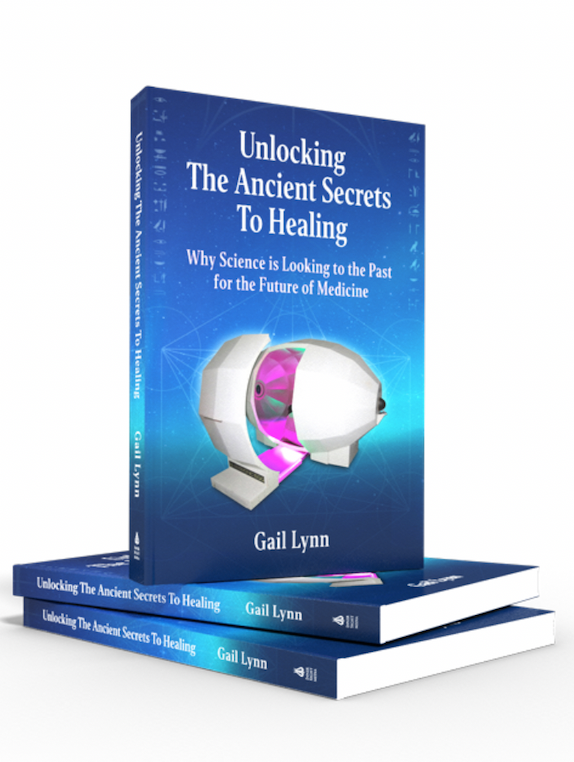 A one-time price of
$16.95
will be added to your order.
Description
Customer Reviews (2)
A fascinating account of an extraordinary journey through ancient history, modern science, and the birthing of a revolutionary new sound and light therapy that is helping thousands overcome their health concerns.

At the age of 37, Gail Lynn's dream of making a difference in the world was rudely shattered. The accumulated stress of two challenging relationships and three extremely competitive careers in the automotive, telecommunications, and film industries had decimated her physical, emotional, and psychological reserves, leaving her with a medical diagnosis of severe cardiovascular stress.
Determined to restore her health, Gail plunged into the world of energy medicine. When a series of whole-body light and sound treatments reversed her diagnosis, she set out to uncover both the ancient history and modern science behind light and sound as healing therapies. 
After opening a light and sound healing center in Colorado in 2010, a series of extraordinary synchronicities guided her to combine light and sound technologies with sacred geometry and Tesla mathematics. The result was a revolutionary vibroacoustic, resonance healing chamber called the Harmonic Egg, which is advancing frequency healing to an unimagined level.
Part memoir, part illuminating treatise on why science is looking to the past for the future of medicine, Unlocking the Ancient Secrets to Healing chronicles the personal tribulations and professional discoveries behind the remarkable realization of Gail Lynn's dream. 
From her humble beginnings in Detroit to a seven-year relationship with Elvis Presley's step-brother, and a role as producer on a Hollywood movie about the "King," to triumphant success stories from world-renowned composers, musicians, professors, and physicians, Unlocking the Ancient Secrets to Healing makes riveting and inspiring reading.
__________________________
Gail Lynn has worked in the automotive, telecommunications, and film industries. She is the creator of the Harmonic Egg® / Ellipse™ and the LiFT™, these products are giving thousands of people new hope for a quality of life they never imagined.
Gail Lynn also co-created several original music pieces for the Harmonic Egg, LLC, each piece is limitless in how it can serve the greater good…play with the music, have fun with it, use your intuition, each song includes notes with instructions to get you started on your journey to use music (sound) and colors in your daily life!
Check out the Harmonic Egg, LLC music!: https://harmonicegg.com/energy-healing-tools-store/
Want a 1st Edition book SIGNED by Gail Lynn?! Click here! https://harmonicegg.com/store-2/?model_number=Signed-Book
Shopping from CANADA?   Please visit https://www.harmoniceggcanada.com/shop for lower shipping rates!
Shopping from EUROPE or UNITED KINGDOM?   Please visit https://harmonicegg.be/webshop/ for lower shipping rates!
For additional support, inquire about Remote Sessions at any Harmonic Egg® / Ellipse® location. Click here to inquire about the Harmonic Egg, LLC home unit, the LiFT™. Always be mindful to support your mind, body and spirit with proper hydration! We recommend Superieur Electrolytes, when available. These electrolytes are made from real, not lab, sources with zero sugar and no dyes or weird ingredients. Use Coupon Code: EGG for Free North American Shipping.
2 Reviews for Unlocking The Ancient Secrets To Healing
This book is brimming with wisdom! - Saturday, July 25, 2020

I saw Gail on Gaia and felt called to buy her book. I have been on my own wellness and spiritual journey for almost 5 years now. I just have to say, her book succinctly encompasses everything I have learned along the way and SO MUCH MORE. This book is full of life changing information and is told from Gail's unique and interesting perspective. I can't wait to have a session in the harmonic egg one day soon.

Amazing - Friday, April 10, 2020

I highly recommend Unlocking the Ancient Secrets to Healing. The book is super easy to read and it really captures your attention as it changes focus to different methods of healing but it all surrounds a common theme.

If you're looking for something different, this is it and it's backed by great amounts of experience and scientific study.
Submitting Your Review, Please Wait
Your Review Has Been Submitted Successfully
Add a review for Unlocking The Ancient Secrets To Healing
You must include a title, rating, and message in your review.
Your Review Title
Your Rating
Your Review